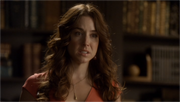 Full Plot
Edit
Erica is chosen to help Camilla undoing a regret in the past. The regret was that, at the time, Camilla was working at her zeide's wig shop and her co-worker asked her to help her "borrowing" some money from the shop, with the promise that she would pay it back later. But that never happened and the shop went bankrupt a year later. When Erica finds herself in Camilla's past, she accidentaly meets Seth, which was in fact an orthodox jew. Erica immediately realises that Seth's autobiography is fake, that he was never in a cult.
Dr. Tom pulls her out of the regret and Erica asks him, exasperated, if he purposely sent her to the past to figure out that Seth was lying about his book. But Dr. Tom tells her that he made a mistake, he never meant for that to happen. Erica asks him for advice but Dr. Tom doesn't know what to tell her.
Moments before Seth being interviewed by George Stroumboulopoulos. Erica tries to tell Julianne the truth, but can't. When Erica, Julianne, Leslie and Seth are commemorating their success with The Purple Door,  Erica asks Seth to talk to him in private. Alone in 50/50's office, Erica confronts him with the truth and Seth simply runs away.
Erica starts looking for proof that Seth was an orthodox jew, so that she can tell Julianne that The Purple Door is a complete fabrication.
Once again, Erica comes back to Dr. Tom's office and this time she asks him to let her go back and undo signing Seth Newman. But Dr. Tom doesn't allow her to do that because using information from the past to fix the life in the present is against the rules. Erica starts yelling at Dr. Tom that 50/50 Press will not survive Seth's lie and goes away.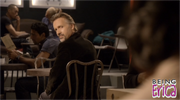 Dr. Tom feels deeply guilty of what's happening to Erica and goes back to the moment when Seth is about to close deal with 50/50. Dr. Tom threatens Seth that the truth about his life will be exposed if he decides to sign a contract with Erica and Julianne's company. Seth gets completely scared and runs away.
Erica's life changes drastically. But the life she's living now is not a result of her own actions. It's because of Dr. Tom's decision. Dr. Naadiah is aware of that and decides to tell the truth to Erica. What will she do now?
Meanwhile, Dave discovers that Ivan touched Julianne's breasts and that he didn't tell him the truth about that.
Sam and Lenin are caught making out in the hospital and Lenin is fired.